Support and maintenance of mobile applications
After the publication of a mobile application, the work with it is just beginning. During operation, there is a need to add new features, modify existing ones, fix errors and vulnerabilities. We support and develop mobile applications at any stage before or after launch.
Why do applications need technical support? It seems like you create an application, release it to the market, why support it?
New devices
New devices constantly appear on the market, older versions of applications may not work correctly on them.
OS Update
iOS and Android versions are periodically updated, so it is necessary to ensure compatibility of applications
New Features
Users request to add new features to the application or change and improve their functionality
Competition
App owners want constant improvements and product development for success in the market
New Technologies
The emergence of new technologies (fingerprint scanning, Face ID, etc.) requires the release of updates for applications, as users want to see new features in mobile products
New Features
Information security is important, the number of crimes related to theft of personal and financial information of users is growing, so prompt vulnerability fixes will help avoid security problems
We are trusted





Types of work
Evaluation of application effectiveness
UX audit, hypothesis formation and testing, optimization of user scenarios. Working on improving Retention, DAU, MAU metrics.
Technical support for applications
Support for application operation on new versions of operating systems and devices. Fixing bugs in the application.
Mobile application development
Expansion of current functionality, as well as development of new features, backlog formation. Publishing updates on App Store and Google Play.
Benefits of working with us
Round-the-clock monitoring
Emergency recovery of functionality without weekends and holidays.
Reliability and security
Work is carried out on test servers while maintaining the functionality of the main version.
Personal manager
The project manager will control the deadlines and quality of work, and answer any questions that arise.
Maintenance of mobile applications
As part of support, we ensure uninterrupted operation of the application, identify and fix bugs, release updates, and work with user feedback. In addition, we perform technical work on monitoring server performance, backup, ensuring free disk space, supporting updates to iOS and Android operating systems, and so on.
Support ensures uninterrupted operation of the application, which means taking care of employees and customers. We fix errors in the application's operation, and you can be sure that all business processes are working as they should.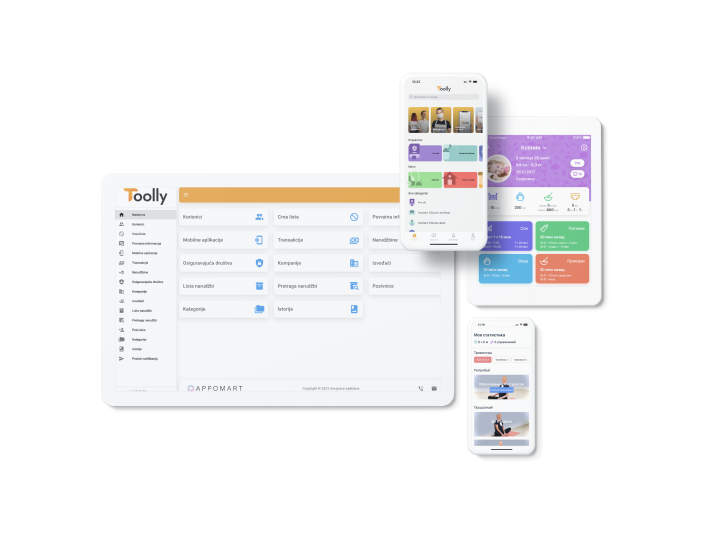 Mobile application development
We help customers plan product changes to achieve key business indicators based on analytics and user feedback. This allows their applications to remain fast, reliable, useful, and functional, making them competitive.
Work on applications should be done in the format of continuous improvement with short iterations (no more than a month for updates) and with well-established feedback from users and the business.
The foundation of application quality/value management is the collection and analysis of metrics for each stage of the conversion funnel.
01
We configure tracking and analytics systems.
02
We gather and analyze information about competitors.
03
We formulate hypotheses and plan backlog changes.
04
We implement changes and analyze results.
05
We scale successes and repeat the development cycle.
06
We repeat the cycle of testing hypotheses using HADI.
We create a development plan.
The development plan for the application is called a roadmap. Such a plan is usually created for a year. Ideally, if the customer already has an understanding of how the application will evolve. If there is no such understanding, it's okay, we will help figure it out.
We will improve the application and provide recommendations
If you are changing developers for various reasons and need modifications to your mobile application, we can help you with that. We will not only improve the application, but also provide recommendations for the further development of the project.
Reliability
Designing an application requires complex planning and efforts, high-quality design, clear understanding of goals and the latest technologies. At Appomart, we have well-defined processes for creating projects of various complexities, including cross-platform and native applications.