We develop effective mobile solutions
We at Appomart develop not just mobile applications, but complex and effective solutions for your business tasks, with an individual approach.
Business
Development of mobile applications that are ideally integrated into the infrastructure of your business.
For corporate clients - secure and scalable solutions with a well-thought-out architecture. From scratch or based on your developments, on your or our servers.
IT startups
Design and development of mobile applications for your startup in the IT field.
Full cycle of mobile application development of any complexity and for any platform. Concept analytics and audit, UI/UX design, front-end and back-end development, application publishing.
Do you already have a mobile or web application? Do you need support and ongoing improvements?
See what we offer customers with existing software products.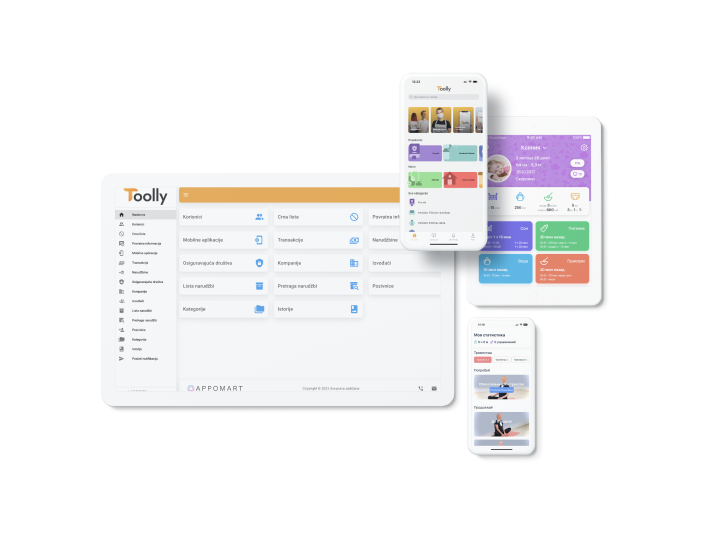 We have something to show you
We love to work with complex and interesting tasks and have already implemented more than a dozen projects. Our mobile applications include games, informational and educational applications, online stores and geolocation services. In every area, we strive to do the best for the success of our customers, maintaining reasonable prices and high quality.
The choice of a developer is important.
The success of a future project depends on many things, and the right choice of a contractor is one of them. This is something that can save you time and money in the short and long term and be the cornerstone of your success. Or a stumbling block if the contractor turns out to be dishonest.
Appomart is a team of highly qualified professionals with over 5 years of development experience. We take a responsible approach to working on our clients' projects, implementing functionality of any complexity for iOS and Android mobile platforms. Attentive attitude to the requirements of customers and special attention to the technical quality of our work will allow us to realize your most ambitious plans!
Discover the Future of IT with Appomart
Ready to revolutionize your IT landscape? Partner with Appomart, the trusted solutions provider. Let our experts guide you to success with tailored strategies.
Don't hesitate—request a call now! Fill out the form and embark on your digital transformation journey. Secure your future with Appomart today.