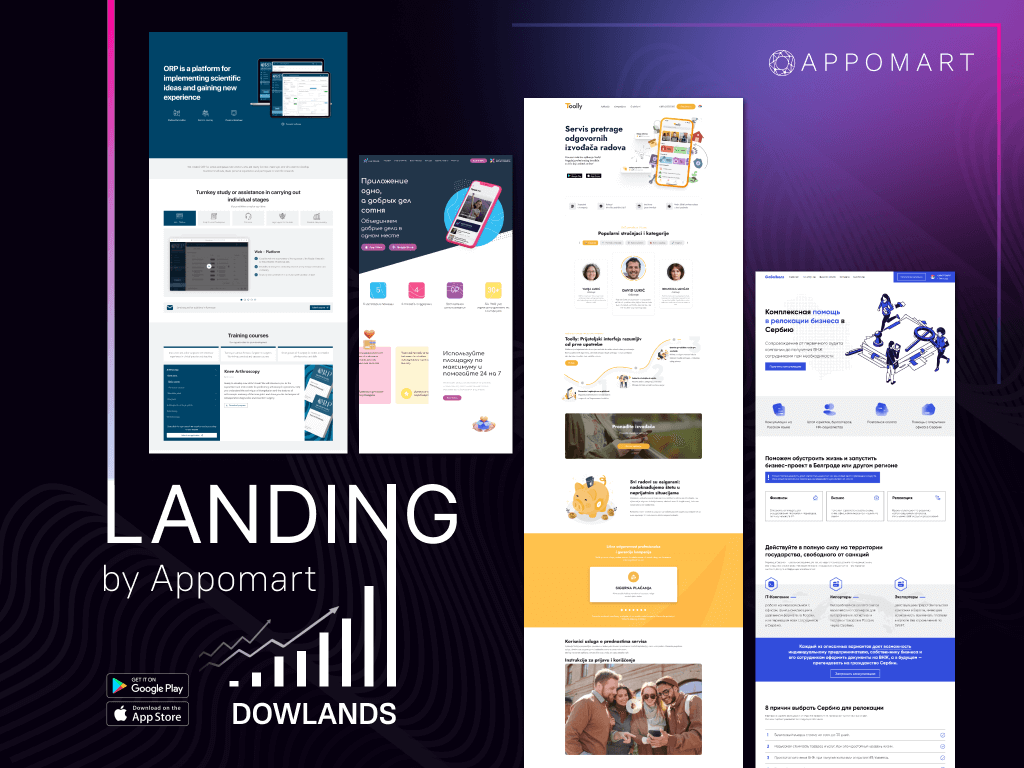 Using promo sites or landing pages in a promotion strategy
Creating promo sites and landing pages always requires a multifactor and comprehensive approach, with extreme attention to detail and understanding of the big picture.
Each of your marketing channels is an important tool for achieving your commercial goals, and our task is to ensure that they all work together. To achieve this, we pay attention to the following:
Brand consistency. We strive for the design, messaging, and overall "vibe" of your promo site or landing page to maintain and enhance your brand image, achieved through other marketing channels.
Understanding the customer journey. Promo sites or landing pages are created with consideration of the place they occupy in your customers" buying journey. The purpose of this site is to engage the customer in interaction and leave the possibility for further contact, such as subscribing to a newsletter or following on social media.
Integration with other marketing channels. Your promo site or landing page should be easily accessible and interact with other marketing channels. We ensure that all links work, social media is connected, and users can easily subscribe to your newsletter or contact you.
Action-focused orientation. Our work on a promo site or landing page never ends. We constantly monitor, analyze, and optimize the site to improve metrics such as time on site, bounce rate, conversions, and other important metrics. We strive for each visit to the site to lead to a specific action, such as form submission, app download, or service registration.
Creating a positive user experience. Our promo sites and landing pages are developed with the best user experience (UX) practices in mind. This means they not only look beautiful but are also user-friendly and intuitive. We aim for your promo site or landing page to be "light" for the user, allowing them to quickly find the necessary information and take the required actions.
Implementation of innovations. At Appomart, we don"t just follow trends, we strive to stay one step ahead. We constantly apply new approaches and tools to improve the promo sites and landing pages of our clients. These can include new methods of information visualization, customer interaction mechanisms, analytics systems, and content customization, among others.
Examples of created promo sites and landing pages at Appomart
The ORP Cloud project is one of the most illustrative results of our work in creating promo sites and landing pages. The site demonstrates a clear structure and division into three key categories: multicenter research, physician training, and legal support for research. The design is executed in the project`s corporate colors, ensuring recognition.
The page offers the possibility to leave a request for additional information, and also includes educational video materials. Thanks to the screencast, site users can visually see how to work with the ORP platform. The site also features a quick login function. Overall, ORP Cloud is not just a website, but a functional tool for solving specific tasks.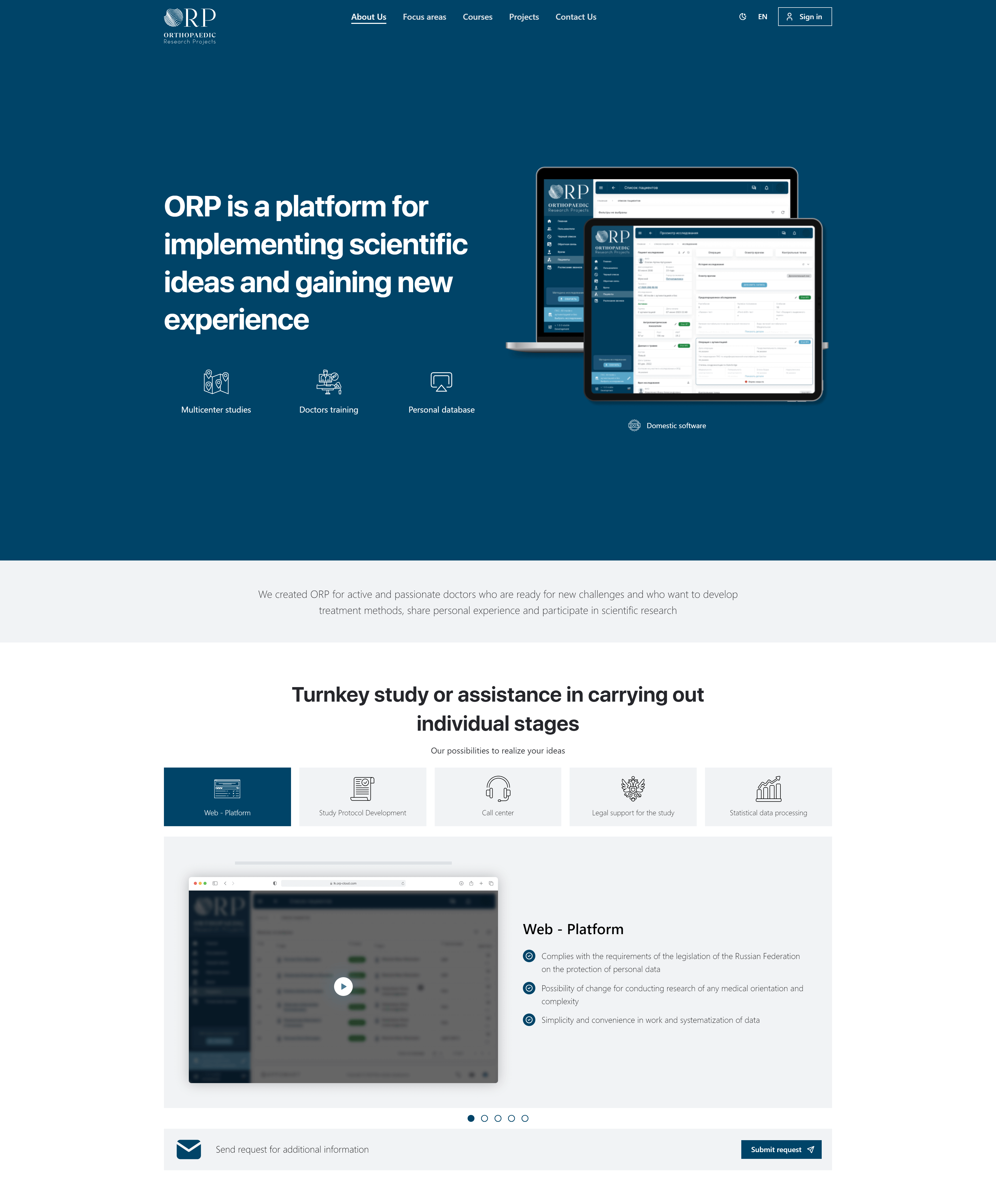 ORP Landing https://orp-cloud.com/
The promo site for the mobile application «I Want to Help» is executed in the project`s corporate style. It includes unique design solutions, such as animations, which help differentiate this project among many other charitable initiatives.
On the homepage, visitors are immediately offered to go to App Store and Google Play, which facilitates the involvement of new users.
Additionally, the site presents information on how to become a part of the «I Want to Help» app not only as a donor but also as a non-profit organization. All key information is accessible within two clicks, making the interaction process with the site easy and convenient.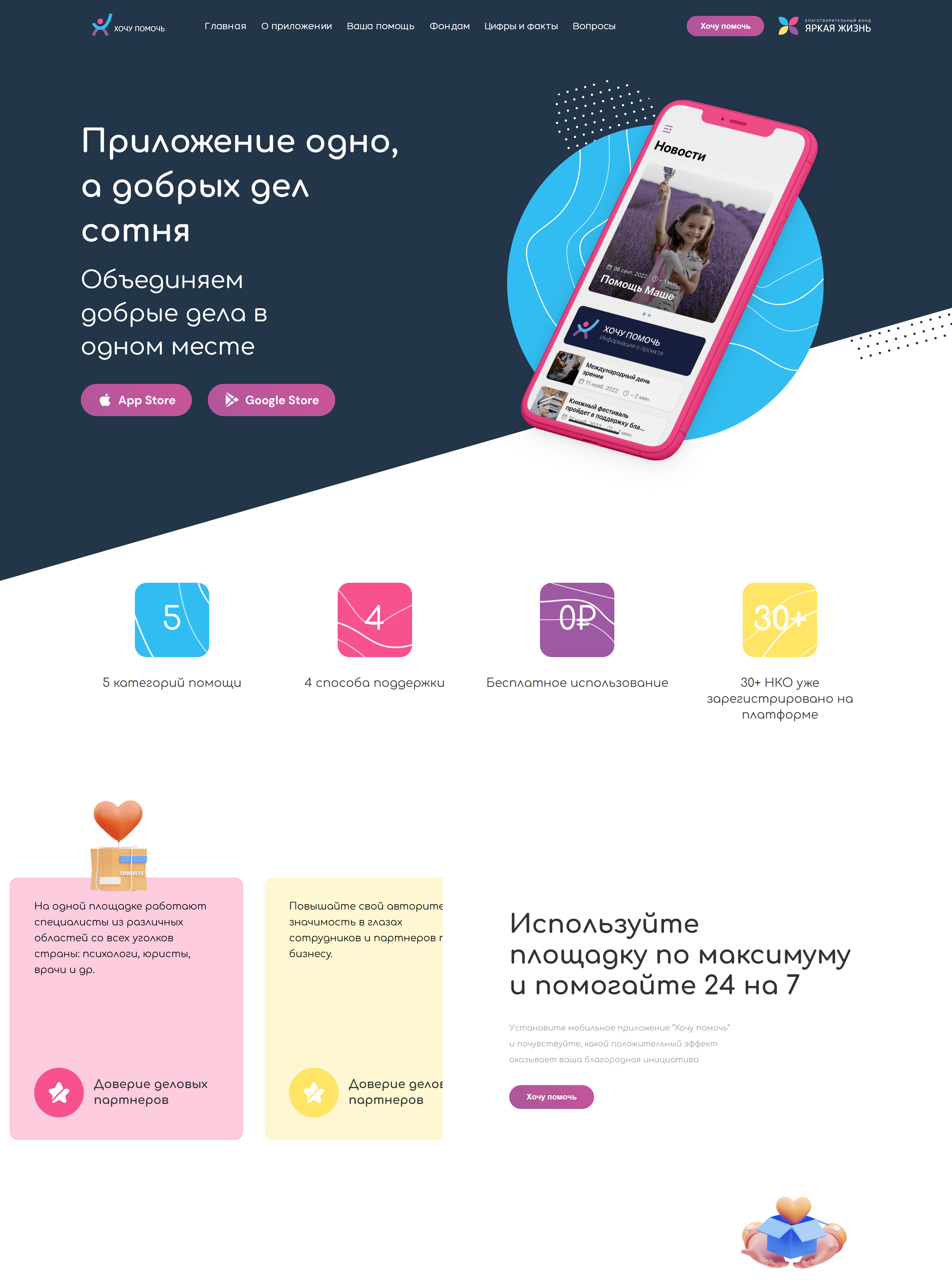 I Want to Help Promo Site https://xochupomoch.ru/
Thanks to the corporate style, harmonious color combination, and detailed infographics, the GoBalkans landing page attracts the attention of visitors.
The main advantages of relocation to Serbia are outlined directly on the homepage, along with persuasive elements highlighting the benefits of this step. This helps visitors quickly grasp important information and generate interest in the offered service.
To contact the company, the page provides a "Get a Consultation" button, demonstrating an individual approach to each client. Each section of the site directly reflects the services and advantages of the GoBalkans company. Detailed descriptions of the company`s working process are also present, contributing to increased trust and understanding of the processes involved in business relocation.
Overall, this landing page is well-designed in terms of UX and UI, providing an easy and intuitive path for the user from their first visit to connecting with the company.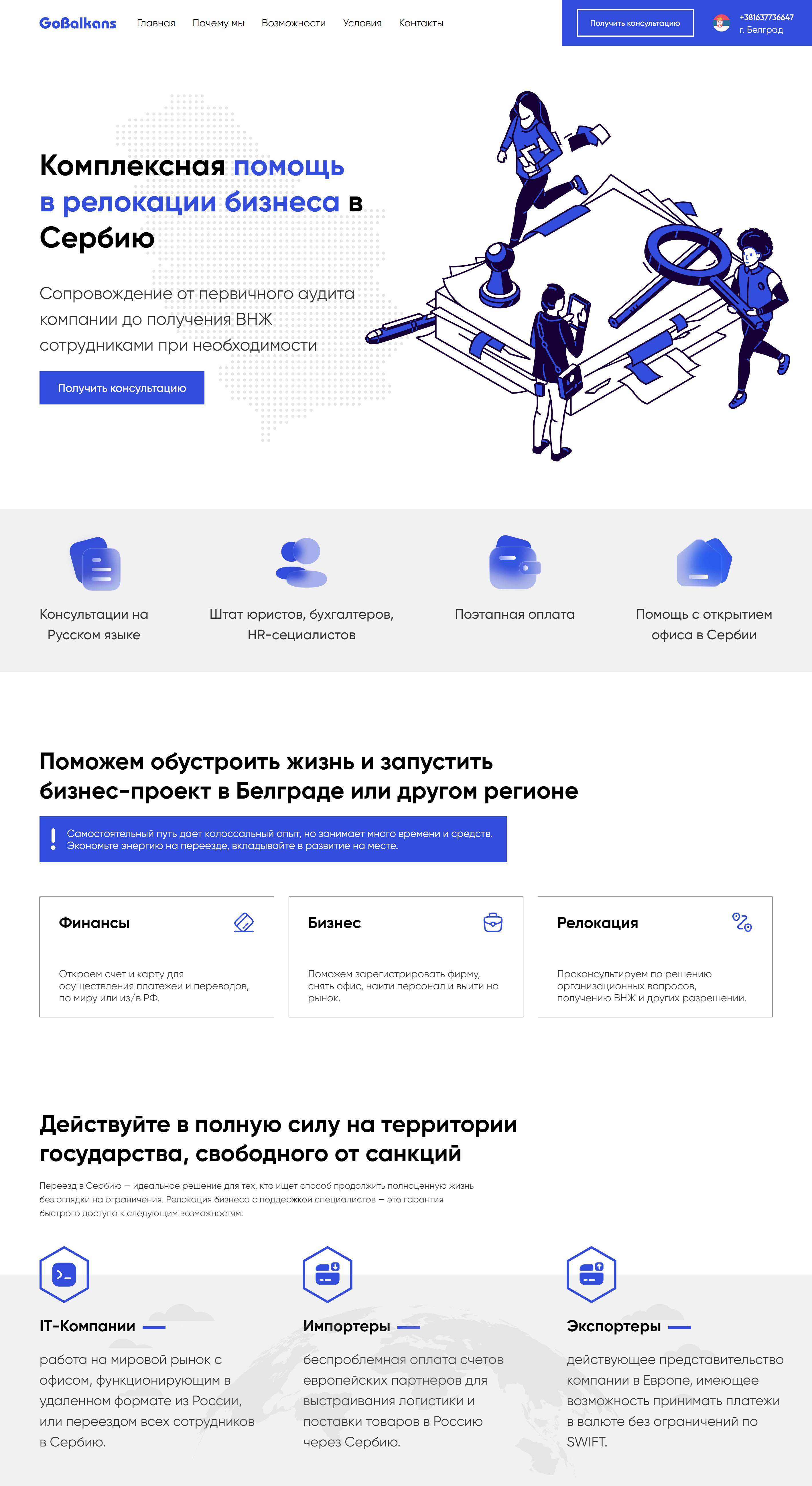 GoBalkans Landing https://gobalkans.me/
When creating a promo site for Toolly, we focused on presenting the service for finding reliable professionals. Its main feature is the emphasis on customer safety: all work carried out by professionals is insured, highlighting the brand"s responsibility and reliability.
The site fully corresponds to the company`s branding. We created an intuitive interface and provided direct links to App Store or Google Play for downloading the app, simplifying interaction with the service.
We also included reviews from real users on the site, allowing potential customers to have a complete and reliable understanding of the quality of the offered services.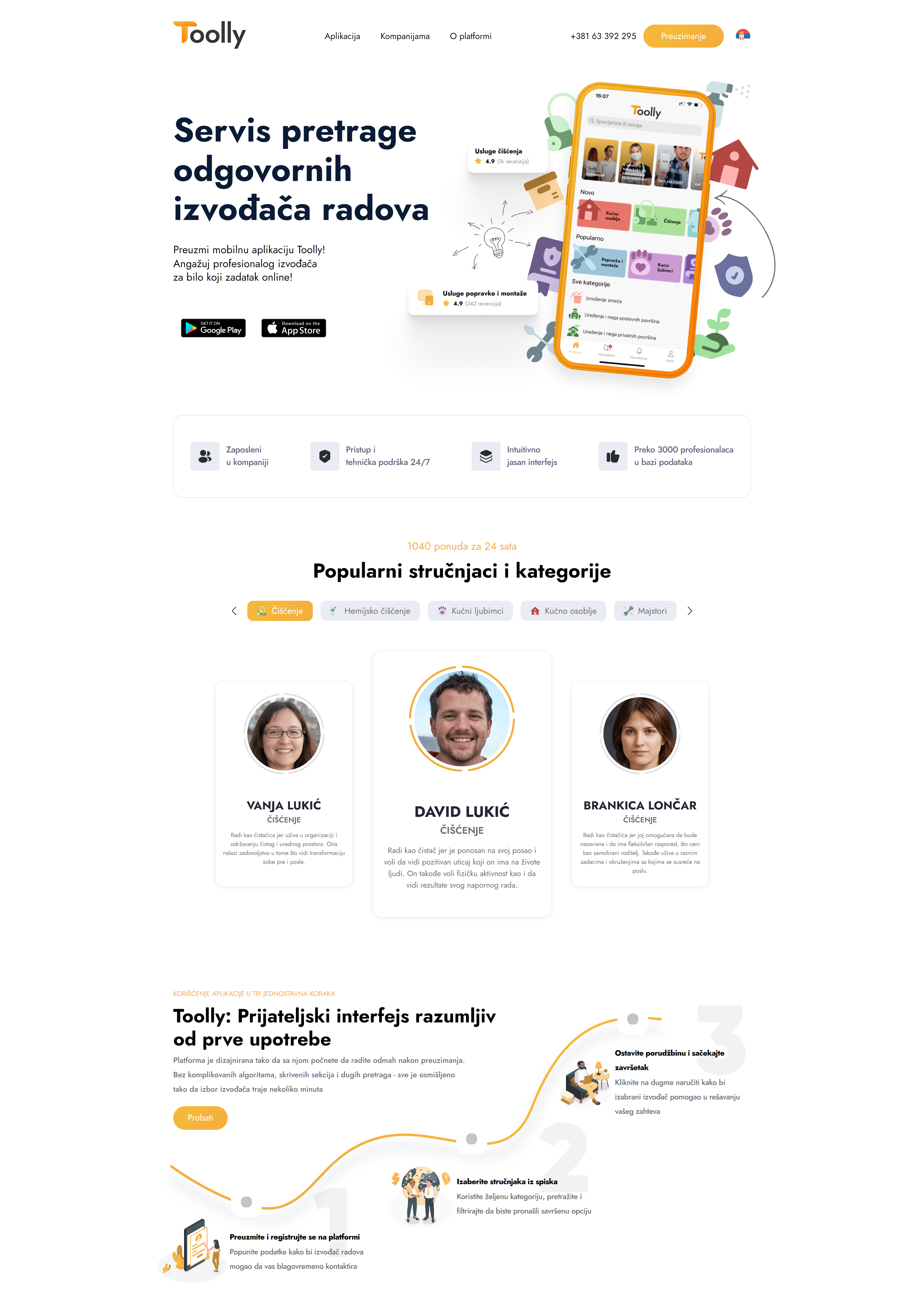 Toolly Promo Site https://toolly.app/
Conclusion
Appomart offers more than just web and mobile app development. In our range of services, you also have the opportunity to order the development of promo sites and landing pages. These tools will become an integral part of your promotional strategy, making your product more visible and accessible to end users. Our team is always ready to discuss your ideas and suggestions to achieve the best results together!
Discover the Future of IT with Appomart
Ready to revolutionize your IT landscape? Partner with Appomart, the trusted solutions provider. Let our experts guide you to success with tailored strategies.
Don't hesitate—request a call now! Fill out the form and embark on your digital transformation journey. Secure your future with Appomart today.