Appomart at SPB STARTUP DAY Conference
On Saturday, we attended the extensive SPB STARTUP DAY conference, organized by the Internet Initiatives Development Fund. The IIDF provides support for internet businesses, and each year, around 90 IT startups from all over Russia receive development assistance and reach new heights.
Share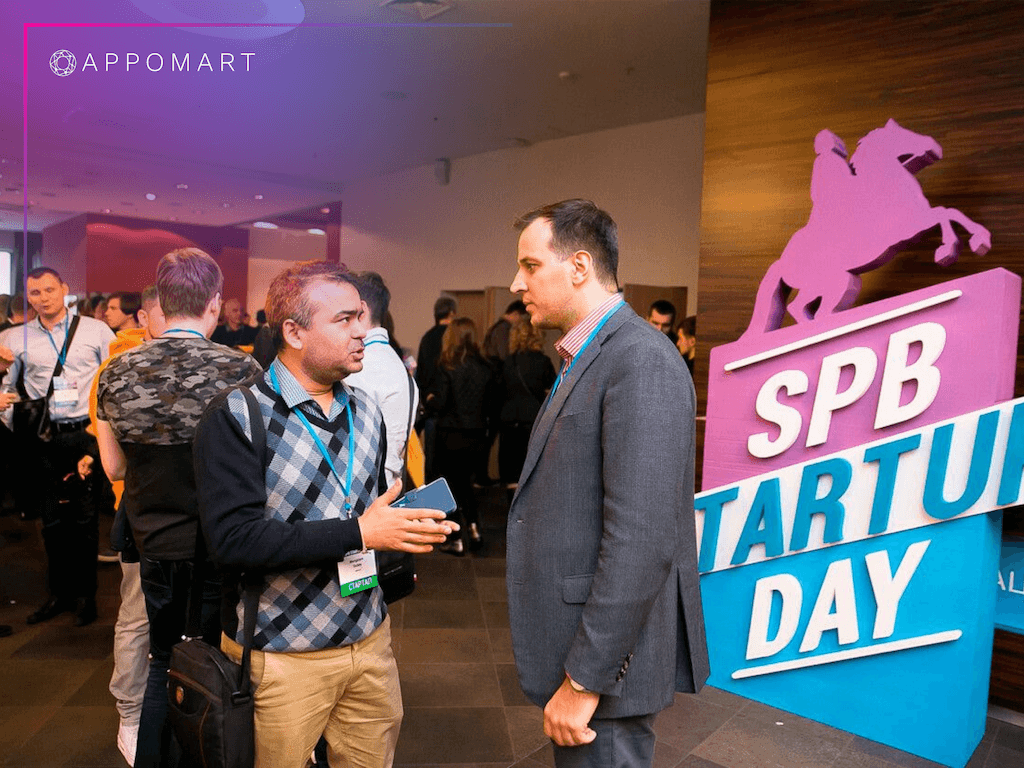 On Saturday we attended a large-scale conference of startup projects #SPBSTARTUPDAY, organized by the Foundation for the Development of Internet Initiatives. IIDF provides support to Internet business and every year, about 90 IT startups from all over Russia develop and reach a new level.
SPB STARTUP DAY is a lot of useful cases, a large-scale expert session for startups and a pitch contest. Every year at the conference, big business speakers share their best practices and experience with start-ups. Here you can expand your circle of acquaintances, communicate with representatives of corporations, top officials of IT companies, successful startup founders and potential investors.
We love such events for their opportunities, and the main opportunity is meeting like-minded people and new interesting people. Knowing how complicated the startup development process is, we help start-up projects to use modern IT technologies in their activities. In order to meet and be inspired by new ideas, we went to #SPBSTARTUPDAY
This year, the organizers attracted even more stellar speakers, among them Alexander Gorny - CIO of Mail.ru Group, Denis Levchenko - Head of Innovation at X5 Retail Group, Evgeny Nelepko - Head of Business Transformation Projects of Leroy Merlin, Ivan Kozlov - Director for the Vkontakte product, George Held - Vice President for Digital and New Business Development of VimpelCom PJSC, Vladimir Vorkachev - Head of the Digital Innovation Center of Gazprom Neft PJSC, etc.
At the conference, we talked with representatives of corporations and colleagues from IT departments, got acquainted with many start-ups, visited the Gazprom Neft demo zone, where we were cheered up by a power engineer from the Gazprom Neft robot. The robot is a joint project of the manufacturer «Eidos-Robotics» and «Gazprom Neft», modifications of which will be used to automate the process of loading oil products for various types of vehicles. We took a 3D photo in the G-Drive innovative bullet photo zone and tested the developments of the Gazprom Digital Innovation Center in the field of personnel training using VR (virtual reality).
We are on the verge of the fourth industrial revolution, which will lead to the automation of most production processes. Automation and robotization is changing human perception, but it should be understood that this will lead to better working conditions for people and better business processes. The Industrial Revolution is the future, so modern tools need to be more tightly integrated into production processes in order for businesses to remain competitive.
By supporting the Gazprom Neft initiative, we are also introducing augmented reality tools into our clients" businesses, because at present, VR is not just a toy, but a serious tool that allows you to solve important business problems.
We are glad that there are such events as #SPBSTARTUPDAY, which give an incredible atmosphere and provide an opportunity to realize talent, achieve new heights and meet new people.
On behalf of the whole team, we express our gratitude to the organizers for the useful conference!
Discover the Future of IT with Appomart
Ready to revolutionize your IT landscape? Partner with Appomart, the trusted solutions provider. Let our experts guide you to success with tailored strategies.
Don't hesitate—request a call now! Fill out the form and embark on your digital transformation journey. Secure your future with Appomart today.