Release of the "Meditation and Sleep - re.Try" App
Dr. Mark Sandomirsky's thirty years of experience, condensed into a simple and user-friendly app, will help users relax and restore emotional balance. We discuss the importance of psychological health and introduce the new project. It will definitely help you understand yourself and your needs.
Share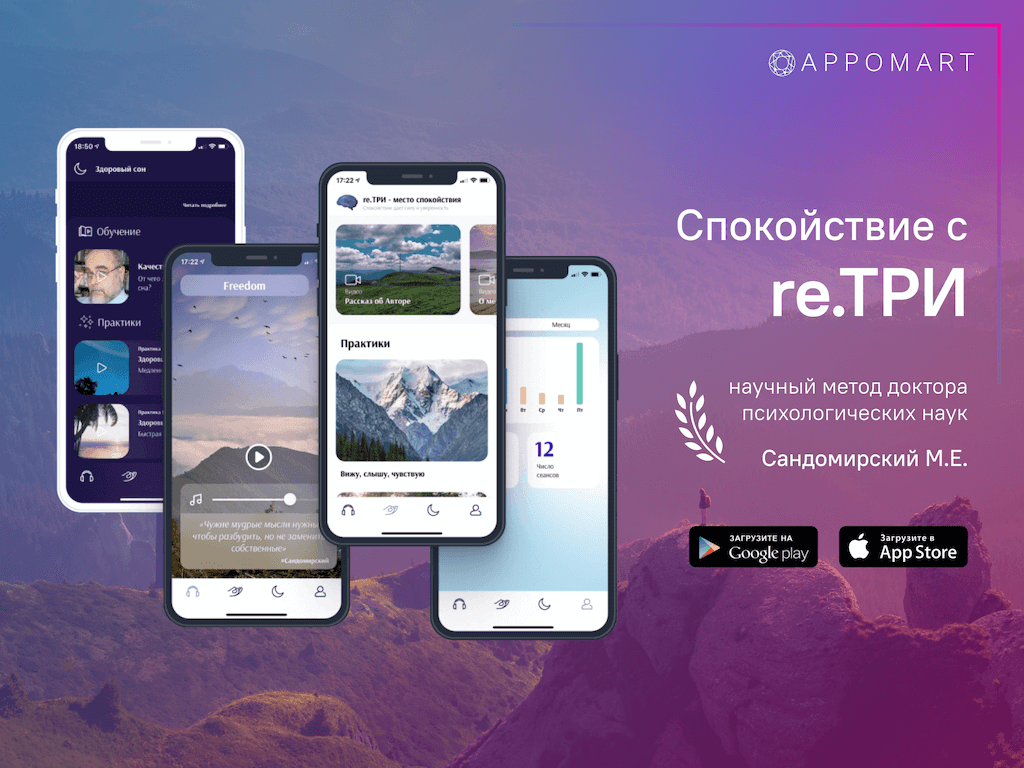 "re.Try" - relaxation, regression, experience reconstruction.
The 21st century has officially been recognized as the era of depression. Despite the abundance of consumer goods and the availability of information, many people feel dissatisfied with their lives. They are guided by an incorrect lifestyle and mindset, making mental health a decisive factor in people's well-being. Every person has the right to receive quality psychological assistance.
This summer, Appomart embarked on an interesting project. A client entrusted us with the creation of a mobile app for using psychological techniques.
Using somatic psychotherapy methods, re.Try helps users relax, improve their quality of life, and increase their own mindfulness. In its development, we focused on the fact that over the past 15 years, society has truly recognized the value of psychology.
Finally, we are ready to present you with the completed project!
At the core of the app are Dr. Mark Sandomirsky's thirty-year practices, which are one of the directions of domestic psychotherapy. The re.Try techniques are based on experience reconstruction, which helps achieve a childlike state of the nervous system and physical youthfulness.
The author of the somatic psychotherapy method considers the integration of psychosomatic techniques and their popularization as important. Mark Yevgenyevich says, "Of all types of production, the production of impressions becomes the most important."
The author's somatic psychotherapy method consists of several elements:
Release of muscle tension practices;
Stress relief;
Anxiety and panic reduction;
Breathing practices;
Emotional and muscular relaxation;
Practices for healthy and quality sleep.
The app includes an optimized player with over 30 melodies, adding more pleasant emotions to the practices. Silence and enjoyment of the sounds of life are an important part of self-awareness.
We have added a recommendation system with promo codes and the ability to personally consult with a psychologist via chat.
Mark Sandomirsky says, "What many people are sorely lacking today is simply silence. Inside and out."
Read articles, take video lessons, and increase your level of mindfulness. You can track your personal progress, set practice reminders, and even sign up for in-person or online consultations directly with Dr. Mark Sandomirsky!
Today, society's focus is on scientific psychology. Mindfulness is gradually becoming a trend, and psychotherapy is becoming more accessible. We believe this is the right path to a comfortable life and mental well-being, so the trend will continue to develop.
We will support ambitious projects and ideas, improve and develop them!
Discover the Future of IT with Appomart
Ready to revolutionize your IT landscape? Partner with Appomart, the trusted solutions provider. Let our experts guide you to success with tailored strategies.
Don't hesitate—request a call now! Fill out the form and embark on your digital transformation journey. Secure your future with Appomart today.